So I saw that Architecture for Humanity was taking on volunteers to work on rebuilding Haiti, specifically architects and builders. On a whim I decided to apply for it. Not hearing back for about three months, I received in my inbox "Hey Lilian. We'd like you to come down!" (more emphasis if said in an American accent!) I took up their offer and signed their 'Participation Agreement,' believe me, after reading that, it did make me want to change my mind, and not go to Haiti.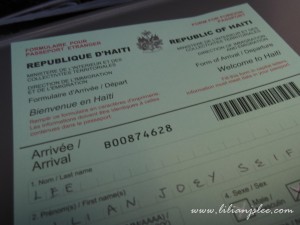 As Haiti is still a post-disaster country it had many travel warnings and alerts saying "We advise you to reconsider your need to travel to Haiti at this time because of ongoing political instability, lawlessness, high levels of serious crime and severely damaged infrastructure following the earthquake in January 2010." I suppose I didn't take their advise...
Its been great so far. A week into my 12 week stint, its what I always imagined it to be. I mean most of you have known that I was actively seeking to find architectural work in the humanitarian sector. I mean it is the usual CAD monkey stuff, so why not change the clientele?
During this week I have learned so much about Haiti and its complexities. But it would be an essay if I were to write it all in full, so I will introduce bits and pieces now and then to fill people in.
Never think that Haiti is a 'Tabula Rasa,' because it is not. Yes they need to rebuild most of Port-au-Prince their capital, but you can't come in and think 'yes, a good opportunity for architects to re-design and build amazing things,' the complexities of the government, the methods of construction and local mentality makes for frustration and heartaches.